There are few greater joys in life than digging into an exceptional plate of pasta. The combination of perfectly hand rolled noodles and a rich, textured sauce is honestly what most of my dreams are made of. But no matter how many plates of pasta I delve into, no matter how many restaurants I visit, there is simply nothing that compares to the steaming bowl of chitarra with fresh spring peas we enjoyed on our most recent trip to Florence. It may not sound like much, but that combination of handmade chitarra with spring peas epitomizes the best of Italian cooking: simple ingredients and enormous flavor.
While nothing will truly match the experience of climbing down a tiny, steep stairway tucked away by the Ponte Vecchio and then descending into an impossibly small dining room bursting with mouthwatering scents and at least two too many tables, the magic of simple springtime pasta can be reproduced anywhere. This past Wednesday I was fortunate enough to witness this as Via Umbria's Chef Liam LaCivita put his own twist on my personal favorite dish: his stringozzi with guanciale and fava bean puree was an exceptionally light yet toothsome pasta with the bright, fresh and almost nutty flavor of fava beans. Rounded out with the richness of guanciale, it was a rare, transportive moment.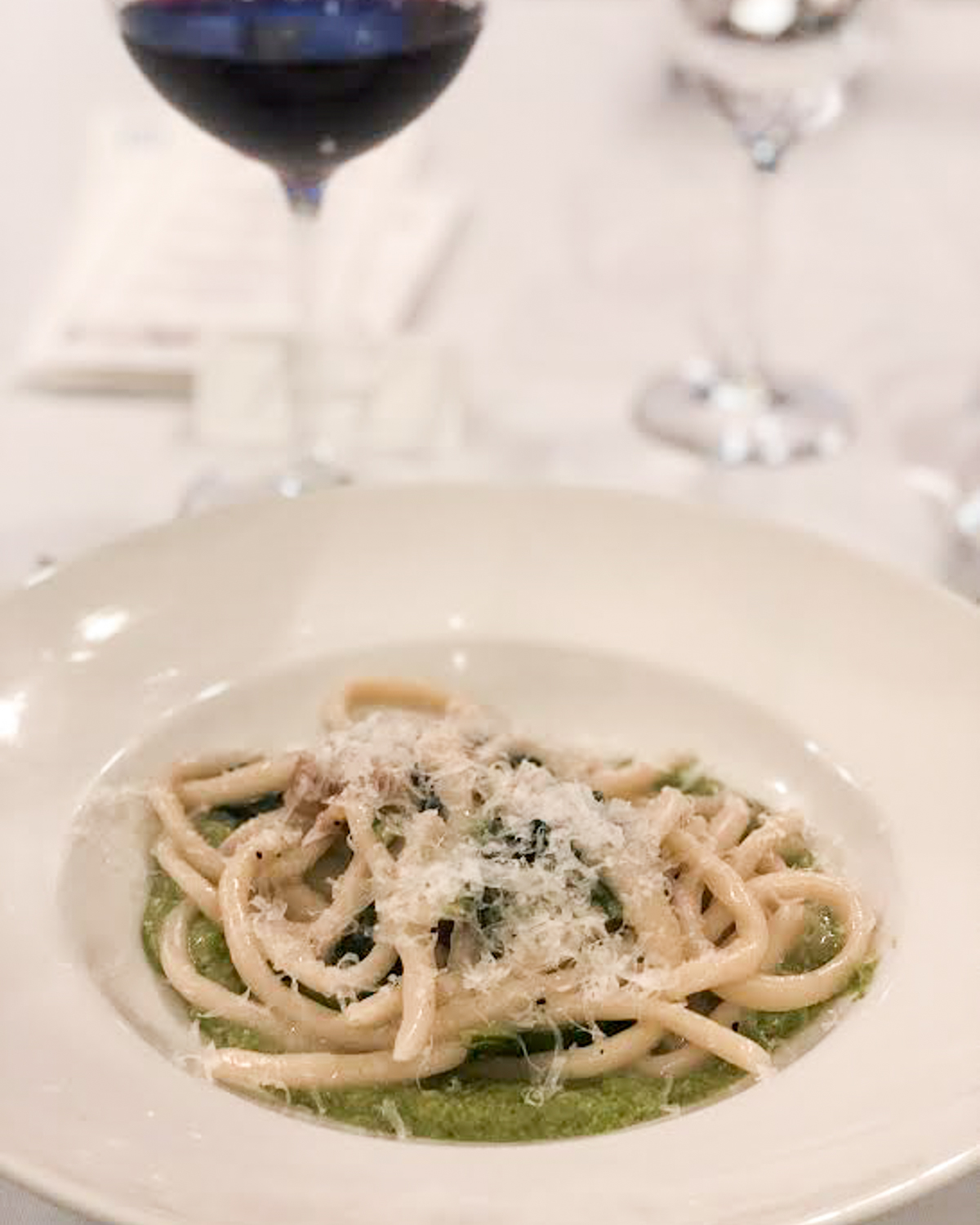 For those of you who missed out, don't fret. There are plenty of beautiful vegetables coming in season and I have no doubt that Chef Liam will be putting them to good use. Join us for one of our Sunday Pastapaloozas and enjoy Rigatoni Carbonara with English Peas, or for a Couples Cooking Class and learn how to make Roasted Eggplant with Fresh Ricotta and Mint, or grab a seat in our Cafe and enjoy one of the new springtime updates to our new lunch menu. Whatever way you choose to indulge, don't miss out on the perfection that is springtime produce.
—Lindsey
---
Italian food runs on simplicity, both in its ingredients and its technique. It's how our kitchen operates, and it's how the best Italian cooking is born. Please note that there are a few stipulations, however: 1.) Your ingredients must have integrity, 2.) your technique must be thoughtful and 3.) you shouldn't ever skimp on parmesan.
This recipe for a simple, 10-minute pasta encompasses these three pillars of Italian cuisine. It's the dish Lindsey describes as "a little sweet and a little salty, simultaneously fluffy and velvety," and one you'll surely return to again and again.
PASTA WITH SPRING PEAS
INGREDIENTS

Fresh chitarra for four (bought or homemade)

2 cups fresh peas, shelled

1/2 stick butter

Olive oil

Salt

Pepper

Freshly grated parmesan

    

 DIRECTIONS

–Bring salted water to a boil.  Add peas and cook for 2-3 minutes until just tender and bright green.  Remove from pot and add pasta.  Cook 2-3 minutes until al dente.

–Divide the peas into two containers.  Add butter and a drizzle of olive oil to one and puree using an immersion blender.

-When pasta is cooked add to pea puree, stir together until generously coated.  Add pasta water and a drizzle of olive oil as needed.

-Put in serving bowl. Top with remaining peas and grated parmesan and serve.